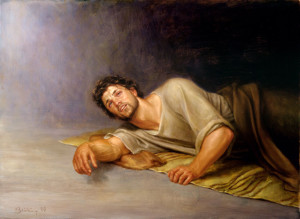 In yesterday's sermon, one of our pastors gave a fresh perspective on Joseph. When Joseph heard the news that Mary was pregnant, he wrestled to know what he should do and resolved to divorce her quietly. But, then God spoke to him through an angel. Joseph heard God's voice, obeyed, took Mary as his wife and adopted Jesus as his son. Matt 1:18-25

Joseph was called to be the earthly father of Jesus. But he didn't know it at first. It took wrestling. It took "considering these things."  He did not want to bring shame to Mary and most likely, he was concerned about his own reputation. After all, he was a righteous man.
Perhaps you are wrestling with a decision today. Perhaps you need wisdom for what is next. Perhaps you have new opportunities opening up for you?
Wrestle, as Joseph did.
Listen for God's voice.
Obey in the New Year.
And live out God's call on your life.
Questions for further reflection:
What does wrestling look like for you?
How do you discern God's voice?
What does obedience look like for you?