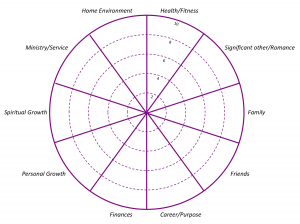 The Life Wheel Assessment can be used in many ways: It can be used to discover areas that need growth, it can serve as a visual to help bring greater balance to life and it can serve as a framework for annual planning.
We are most deeply satisfied when our lives reflect what is most important to us.
During our time together, we will process the wheel and focus on three areas of growth for the next season.
Download one or several versions of the Life Wheel and Planning Page:
Life Wheel Assessment and Planning Page PDF  (for printing)
Life Wheel Assessment and Planning Page DOC  (Word doc for typing/printing)