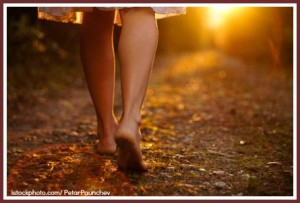 How do you keep walking with God for a life-time?
I have walked with God for 35 years. Lord willing, I will keep walking for another 35 years. And not only do I want to walk with Him, but I want to continue growing, continue becoming more like Him and continue serving Him to the end.
So how can I go the whole way without slowing down, without quitting, without coming to a standstill?
Not too long ago I almost came to a standstill. It was a very dark time of doubt and disbelief, confusion and lack of peace. I was at a loss and could not produce faith on my own.
Completely dependent on God to restore my faith, I decided to keep walking, but I intentionally took a few giant steps.
Giant step 1 – I brought my disbelief into the light and shared with a few safe women who I knew would pray for me.
Giant step 2 – I talked to God all about my disbelief and asked Him for faith knowing that He is the founder and perfecter of our faith. Hebrews 12:2 ESV
Giant step 3 – I read large passages of Scripture and soaked it in whether I believed it or not.
Giant step 4 – I continued to live obediently and serve God in the ministry He called me to.
Giant step 5 – I worshipped Him.
Giant step 6 – I looked for His transforming work in the lives of those around me.
I have had the privilege of being around passionate Christ-followers in many different countries these past few weeks. What an environment to nurture my faith! The gospel of Jesus Christ transforms lives!
How will you keep walking with God?
Are you in need of taking a few giant steps?
"One thing I ask from the Lord, this only do I seek: that I may dwell in the house of the Lord all the days of my life, to gaze on the beauty of the Lord and to seek him in his temple."  Psalms 27:4